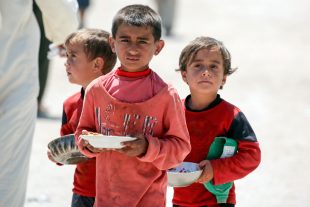 As the Syrian Democratic Forces (SDF) announced that Raqqa has been liberated from Daesh, a new UK aid package will clear deadly landmines and restore hospitals and medical treatment for victims of the bloody conflict to help them return home safely.
The Sun on Sunday, Express, Evening Standard and Sky News covered this, reporting that the International Development Secretary Priti Patel announced yesterday (Sunday 22 October 2017) that the UK is stepping up support so experts can destroy landmines and explosives, making the streets safe and allowing aid agencies to reach those in desperate need. The UK is also helping to restock hospitals and mobile surgical units in the area with essential medicines and equipment to help restore crippled health facilities.
The UK aid package will also deliver an additional 145,000 medical consultations, including for those that have been wounded or malnourished through the three years of fighting in Raqqa, and provide cooking equipment, blankets and clean water for thousands of others to help meet their immediate needs.
Speaking yesterday, International Development Secretary Priti Patel said:
"Daesh's iron grip on the city of Raqqa has stolen the lives of too many innocent people and now that this evil regime has been driven out, it is absolutely crucial that the international community actively helps them rebuild their lives.
"After years of barbaric and indiscriminate violence by Daesh, the liberation of Raqqa offers a glimmer of hope – but defenceless men, women and children still face a brutal death sentence from lethal landmines or wounds inflicted by the conflict.
"UK aid is providing a lifeline for countless Syrians who have lost absolutely everything, giving life-saving medical treatment, water and blankets to those that have escaped and destroying deadly explosives to ensure people can return safely now that Raqqa has finally been freed."
Writing in the Sun on Sunday, Ms Patel said that Britain has always been a world leader in the response to the Syria crisis and it is absolutely crucial we help the people of Raqqa rebuild their lives.
She added that we've already provided 20.9 million emergency food rations to prevent people from starving and last year we helped to get over 700,000 children in Syrian and the region into formal education.
This follows the International Development Secretary's comments on Friday, when she welcomed the liberation of Raqqa by saying:
"Daesh's ruthless grip on Raqqa has destroyed the lives of countless innocent people, including defenceless children who have known nothing but the catastrophe of war. After years of barbaric and indiscriminate violence, the liberation of Raqqa offers a glimmer of hope.
"The UK has led the international response in Syria over the last six years, working tirelessly with partners on the ground to deliver more than 660,000 lifesaving relief packages including blankets, clothing and hygiene kits in Raqqa alone. We've also carried out 87,000 medical consultations.
"We are standing by the Syrian people and we will continue the fight against Daesh's poisonous and extremist ideology to bring hope for the future of Syria's next generation."