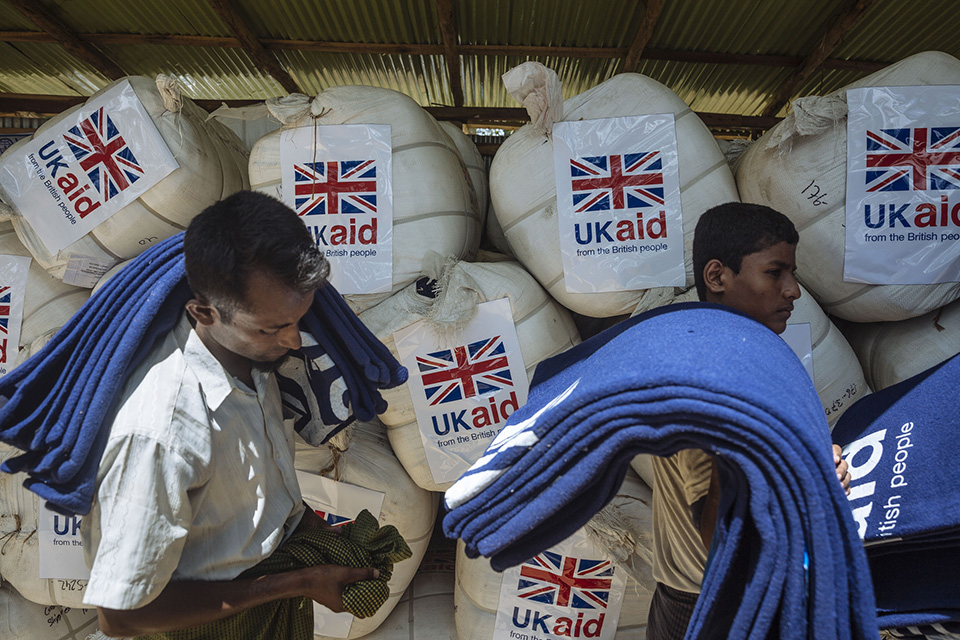 The Daily Express front page story today (Tuesday 24 October 2017) led with claims that the UK should abandon its commitment to spend 0.7% of income on development and direct the money towards to the NHS and social care instead.
Britain leads the world on development and we take our international responsibilities seriously. This isn't a case of choosing between international development and social care.
Global challenges like mass migration, disease, terrorism and conflict have no respect for national borders. If we stand back from this fight we are not only abandoning our moral responsibilities, we are allowing other countries' problems to come closer to our shores.
Earlier this month, the Prime Minister reiterated the UK's commitment to development spending. Speaking earlier this month, she said:
"Under this government, we will continue to meet the international aid target, spending 0.7% of our GNI on international development. That's not just because it's good for Britain, but because it is the right thing to do.
"Today, UK aid is being used to bring food to starving children in conflict zones like Syria and Iraq. UK aid is being used to bring water to drought stricken parts of Africa. UK aid is helping to educate women and girls in parts of Asia where that most basic of human rights has been denied to them for so long.
"Yes, charity may begin at home, but our compassion is not limited to those who carry the same passport… this country is one of the few that is meeting its duty to some of the poorest people in our world. And as Prime Minister, I will ensure that's something Britain always continues to do."
The Daily Express agrees that we need to provide life-saving humanitarian support to people in need around the world. This is critical to our work and UK aid reached 17 million people, including 7.3 million women and girls, with humanitarian assistance since 2015.
But we cannot stop there. UK aid means that people receive life-saving vaccinations, have clean water, can go to school and are working their way out of poverty.
In the last two years, our support meant that around 28.7 million children were immunised, saving 475,000 lives. We also helped 27.2 million people access clean water and better sanitation, reducing the risk of spreading deadly diseases. And we helped 7.1 million children to gain a decent education.
The Daily Express claims that we are wasting aid. We are absolutely committed to spending every single penny of our aid budget wisely and without waste.
The International Development Secretary Priti Patel has been clear that her priority is to make sure that aid delivers value for money. Speaking today, she said:
"My work to reform the aid system is about aid effectiveness. Maximising value for money, being absolutely accountable and transparent to British taxpayers about where their money goes, and why it serves in our interests, in terms of national and global interests, to invest in the way that we do when it comes to our international development budget."
DFID has completed a supplier review to improve accountability and transparency in the private sector, introducing tough reforms of our work with suppliers to clamp down on the risk of profiteering and unscrupulous practices.
We have also expanded 'Payment by Results', meaning that our support is increasingly based on performance. And we're making 30% of our funding to the United Nations and its agencies conditional on improved results and reform.
Our efficiency review is planned to save close to £500 million by 2019/20, which goes even further than the target set in the 2015 Spending Review.
DFID is also working with other government departments to instil best practice on ODA reporting, value for money and accountability. All departments spending ODA are required to put in place a clear plan to ensure that their programme design, quality assurance, approval, contracting and procurement, monitoring, reporting and evaluation processes represent international best practice.