International Development Secretary Penny Mordaunt stands with the Caribbean and Overseas Territories to build back better
Over the weekend and today (Monday 20 November 2017), newspapers and online news outlets covered International Development Secretary Penny Mordaunt's first visit overseas to the British Virgin Islands, Dominica, Antigua and Barbuda where she reaffirmed UK support to the islands devastated by the recent hurricanes.
During the visit to the British Virgin Islands and Dominica, Ms Mordaunt accompanied His Royal Highness the Prince of Wales and saw first-hand how UK aid is helping to rebuild people's lives. The Sunday Telegraph printed a double page picture of her meeting people from Barbuda who had been evacuated to Antigua after the hurricane. The UK has supported some of the most vulnerable families affected by Irma through support via the Red Cross for food and shelter.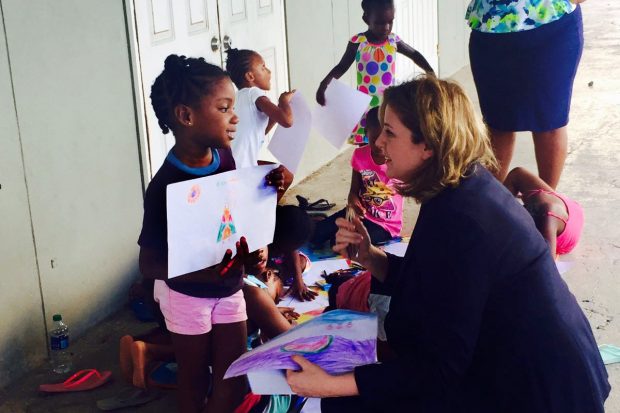 There was further reporting on BBC Online, ITV Online, MailOnline, and the Daily Express, of the new £15 million package for Dominica (£12 million) and Antigua and Barbuda (£3 million) to help recovery and long-term reconstruction on the islands, in addition to a further £15 million recently allocated to the affected Overseas Territories. Her visit and the extra support was also reported in regional outlets including the Portsmouth News and the Evening Standard, as well as Scottish, local Caribbean, and specialist outlets.
During the visit, Ms Mordaunt was able to meet and thank the British humanitarian heroes and the military who have worked tirelessly on the relief efforts on the worst-hit islands.
Speaking during the visit, she said:
"We can be proud that in their time of crisis the UK stepped up to provide the vital immediate relief that was fundamental in getting these islands back on their feet.
"The UK aid mission was huge, covering small islands stretching more than 1,000 miles apart, where buildings, airports and infrastructure had been razed to the ground. I want to pay tribute to the governments of the Overseas Territories, our humanitarian staff and to the military effort, which has been absolutely essential in delivering relief.
"Now as we move on from the immediate response phase, on to the long-term future of the islands, Britain will continue to stand by people whose lives were devastated. We are also talking to the international private sector who can support the reconstruction efforts to make sure the islands can build back, and better."
The support package, which brings the total UK contribution to £92 million, will include £10 million to help Dominica to rebuild critical infrastructure damaged during the hurricanes. In Dominica 97% of the water system was destroyed. This is one example of where UK support could help rebuild so Dominica is better able to withstand future natural disasters.