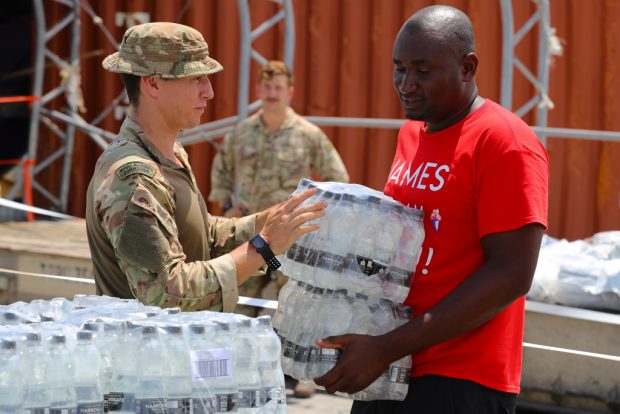 The delivery of aid in the Bahamas by the Royal Fleet Auxiliary (RFA) ship Mounts Bay in the wake of Hurricane Dorian continues to be covered extensively in the media.
International Development Secretary Alok Sharma discussed the UK's response on Good Morning Britain yesterday (Friday, September 6), highlighting the UK's practical support, after the widespread destruction of homes and infrastructure on the islands.
He explained how supplies were going out from RFA Mounts Bay to those most in need.
The Secretary of State was also quoted widely in print and online media yesterday, including in The Sun, The Mirror, Metro and Mail Online.
He said: "The images of devastation and destruction across the Bahamas are truly shocking. The clock is now ticking to get help to those in need, and I'm pleased that Mounts Bay has begun to deliver life-saving relief items to those in desperate need.
"Sadly, we know all too well that hurricane season in the Caribbean can wreak this level of catastrophe, which is why we sent a team of DFID humanitarian experts and pre-positioned RFA Mounts Bay in the region with water carriers, hygiene kits and shelter kits on-board."
There was also regional coverage yesterday from Plymouth Live and the Belfast Telegraph, which both report that RFA Mounts Bay is working alongside the Royal Bahamas Defence Force to help deliver shelter kits, water and other essentials to those most in need.
On Thursday 5 September, The Times, The Telegraph, The Guardian, Press Association, The Sun and The Mirror also highlighted the UK's response.
The Mirror included a quote from Dr Jon Stone, leader of DFID's humanitarian response in the Bahamas, saying, "Our immediate focus is life-saving assistance. People there were under life-threatening conditions for quite a long time. The clock had started ticking to get them fresh water and shelter and it really is imperative that assistance is delivered quickly."
Dr Stone also appeared on BBC News today and Good Morning Britain  (Thursday, September 5), where he described flying over the Bahamas and seeing the complete devastation and destruction caused by the hurricane.
A report on ITV News on Wednesday evening said Britain had answered the emergency call for help in the Bahamas.
Diaspora media channels such as UAE news outlet Gulf News, and Indian newspaper News 18 have also carried the International Development Secretary's words and reported on the UK's relief effort.