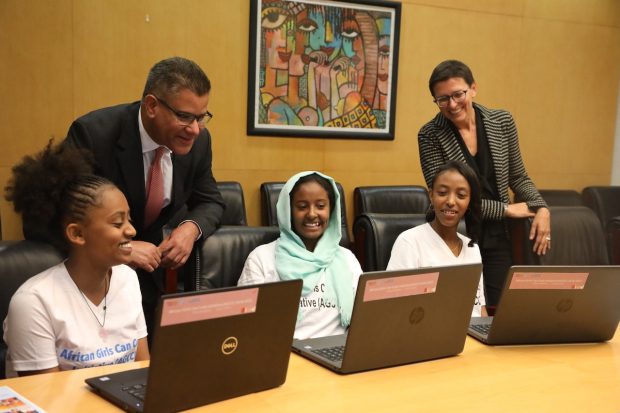 We must empower young girls and provide them with the same opportunities as boys, writes International Development Secretary Alok Sharma. This article was published in The Voice yesterday, 18 September 2019.
"Education is a weapon that can change the world". That is what 16-year-old Mekdes told me during my first trip to Ethiopia.
Mekdes is one of 10 inspiring girls I met who has learnt how to code during a summer camp, backed by UK aid. In just three weeks, girls are creating new apps that could change Ethiopia's future. Some of them had never used a computer before.
Madher, also 16, is creating the technology for an app to fight drought in rural areas. Her app helps farmers measure water content in the soil, sending her a text message when more water needs to be released for crops to grow.
If applied on a large scale across Ethiopia, this innovation could reduce the need for emergency food and water aid, that many families are forced to rely on when harvests fail.
These girls are going to teach their sisters how to code and want to launch their own businesses employing Ethiopian women.
Girls' education matters.
UK aid is empowering girls across the world to make changes and fight against the crippling inequality they face every day. Through education, they can determine their future.
I am proud that our Prime Minister is putting girls' education at the heart of Britain's global agenda.
At a summit of G7 leaders last week, he announced further UK aid to help 600,000 children in conflict zones go to school.
Everyone benefits from a world where girls have the same opportunities as boys. Every woman deserves the chance to start a business.
QUALITY
Ensuring girls and women get a quality education and jobs to support their families will help businesses to thrive, boost economic growth, and lift millions of people out of poverty.
But we cannot do this alone. Experts estimate that advancing economic equality globally could add $12 trillion to the global Gross Domestic Product.
An extra $2.5 trillion is needed every year to end poverty in developing countries and meet the 17 Global Goals, which aim to make the world a fairer, healthier, safer and more prosperous place for everyone, everywhere by 2030.
The UK must lead the way to mobilise private sector investment.
That is why I have announced a new International Development Infrastructure Commission, to be comprised of UK and international business leaders. This Commission will make recommendations to improve the attractiveness, planning, delivery, and financing of infrastructure projects.
Africa is the world's second fastest-growing region, yet 600 million Africans do not have access to electricity. Recent estimates put the continent's minimum infrastructure needs as high as £140 billion a year.
CHALLENGE
This is a huge and urgent challenge. The new Commission will corral private sector investment in more sustainable and resilient cities.
I look forward to meeting leaders from African Governments at the UK-Africa Investment Summit next year. There we can find new opportunities for trade between our countries and generate billions of pounds for developing countries and the UK alike.
This is just the beginning. Global Britain is more outward-looking than ever before. Money invested in worthwhile education, infrastructure, and business projects across Africa is money well spent. It is the very definition of a win-win.
As Mekdes told me, we can make change happen and we can make our countries better for all of us.
Alok Sharma is International Development Secretary