Almost three months since violence erupted in Burma, the horrific suffering and what looks to be the ethnic cleansing of more than 600,000 people continues to feature in news.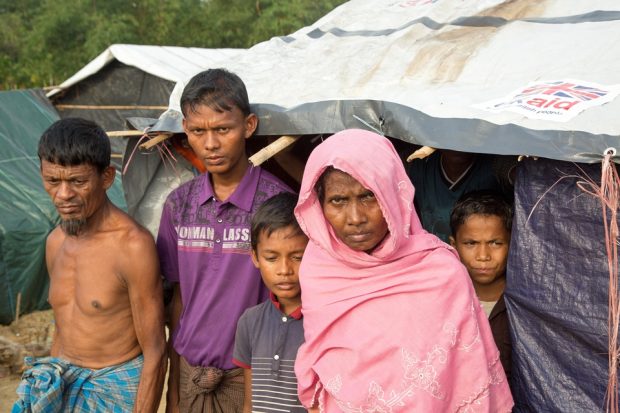 Picture: Anna Dubuis/DFID
The latest report from Sky News today (Monday 13 November) depicts the harrowing atrocities that hundreds of thousands of Rohingya who have been unable to escape Burma are facing on a daily basis. Many are trapped at the border, unable to swim or go any further and terrified of returning to their homes.
Every displaced person who has made it into Bangladesh, carrying not much more than the clothes on their back has arrived with their own tragic story to tell, yet very few stories until now of those who remain in Burma have emerged.
It is important that the world hears and sees these stories and the UK Government is appalled by the inhumane violence that has taken place. It has recognised the unprecedented scale of the crisis in Bangladesh and Burma, and is leading the response in speed and in size to the world's fastest growing humanitarian catastrophe.
To date the UK has committed £47 million to meet the urgent humanitarian needs of innocent men, women and children who have been forced to flee the relentless violence in Burma, and make the treacherous journey to Bangladesh to seek refuge.
UK aid is already helping to provide:
medical help for over 50,000 pregnant women to give birth safely
emergency food to 174,000 people
lifesaving nutritional support to more than 60,000 children under-five and over 21,000 pregnant and breastfeeding women
essential items including soap, cooking utensils and water cans for over 131,000 people
emergency shelter for over 130,000 people and support to make shelters more resilient to rain and heavy winds for 450,000 people as the cyclone season approaches
counselling and psychological support for over 10,000 women suffering from the trauma of war and over 2,000 survivors of sexual violence
Alongside this, the UK Government has matched pound for pound £5 million raised by the Disasters Emergency Committee (DEC) Appeal for people fleeing the violence and destruction in Burma, doubling the impact of the public's own donations and ensuring that charities working on the ground can reach even more people in need.
From the beginning, the UK led calls for humanitarian access to be granted by Burma military and we continue to echo these calls. Without humanitarian access, lifesaving food, water and shelter cannot be provided and innocent people will die.
The UK stands ready to do more but the unacceptable intimidation and restrictions on the movement of humanitarian workers must end. Burma must work with international partners to put in place the conditions that will allow people to return to their homes safely, with dignity and hope for the future.