International Development Secretary Penny Mordaunt visited Bangladesh over the weekend (25 and 26 November 2017), to meet Rohingya victims of violence and persecution. At Cox's Bazar, she saw first-hand how UK aid is saving lives with urgently needed humanitarian assistance.
In a double-page spread in The Sun today (27 November 2017), Ms Mordaunt is seen meeting women who escaped from persecution in Burma. On the visit, Ms Mordaunt announced a further £12 million in aid, bringing total UK support for the Rohingya Muslims in Bangladesh to £59 million since 25 August 2017.
In an interview with ITV News, she praised the Government of Bangladesh for their continued generosity in helping the Rohingya people and urged other countries to follow the UK's lead by promising longer-term support to avert disaster. The visit was also an opportunity to meet the UK aid staff on the ground, helping those who have been tragically driven from their homes.
Speaking during the visit, Ms Mordaunt said:
"The persistent persecution of the Rohingya people must stop. It is horrifying that hundreds of thousands of innocent men, women and children have had their homes burnt to the ground, and parents have been forced to helplessly watch as their children die from hunger.
"This looks like ethnic cleansing. The Burmese military must end this inhumane violence and guarantee unrestricted humanitarian access so aid can reach those in need in Burma. Any return of families to their homes must be safe, voluntary and dignified.
"Global funding to support the Rohingya people will only meet urgent needs for the next 100 days – we cannot turn our backs on those trapped in crisis.
"Other countries must follow our lead and do even more to help children overcome the trauma of war, reunite them with their families and give a future to the next generation."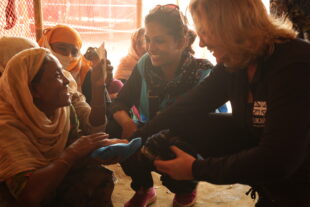 There was further reporting on the visit by the MailOnline, The Daily Telegraph and The i, as well as in regional outlets including the South Wales Argus and the Pebbleshire News.
The International Development Secretary spoke with local media and the visit was reported on by Bangladeshi publication The Daily Star, as well as The National in UAE.
While in Bangladesh, she also met the country's Prime Minister Sheikh Hasina.
Speaking on her return, Ms Mordaunt said:
"I have just returned from Bangladesh to see for myself the Rohingya camps and hear directly from the refugees about the horrific atrocities they have endured.
"While every refugee expressed the desire to return home I have made it clear to Prime Minister Sheikh Hasina that any returns must be voluntary, safe, dignified and sustainable. To return the Rohingya people must have both security and peace of mind
"Those conditions are far from being met."
UK aid in Cox's Bazar is helping to provide:
Emergency food to 174,000 people;
Lifesaving nutritional support to more than 60,000 children under-five and over 21,000 pregnant and breastfeeding women;
Safe drinking water, emergency latrines and hygiene kits for more than 138,000 people;
Essential items including soap, cooking utensils and water cans for over 131,000 people;
Emergency shelter for over 130,000 people and support to make shelters more resilient to rain and heavy winds for 450,000 people as the cyclone season approaches;
Access to female bathing cubicles and sanitary items for more than 35,000 girls and women;
Counselling and psychological support for over 10,000 women suffering from the trauma of war and over 2,000 survivors of sexual violence;
Medical help for over 50,000 pregnant women to give birth safely.