Today, ahead of the International Day for the Abolition of Slavery on 2 December, International Development Secretary Penny Mordaunt condemned modern slavery as a "global disgrace" and pledged the UK's long term commitment to stamp out this practice abroad which will in turn support the efforts to end slavery in the UK.
There has been coverage in national newspapers, including Reuters, the Independent and Daily Express of Ms Mordaunt's announcement that UK aid will help over 500,000 vulnerable men, women and children around the world who have either survived modern slavery or are at risk of becoming victims. There is further coverage in Politics Home, Eastern Eye, Public Finance International and regional outlets.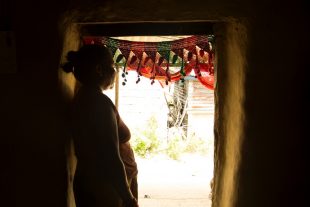 Speaking about the UK's efforts to help eradicate modern slavery, Ms Mordaunt said:
In the world we live in, it is as easy to traffic people as drugs or guns and not enough is being done to tackle it. This is a global disgrace.

While we continue to tackle the slavery still present in the UK, the only way for us to eradicate the practice once and for all is to tackle the problem both in the UK and at its source, stamping it out of our economies.

The additional support we are setting out today will help vulnerable people who face the horrific and daily reality of modern day slavery.

It will help people who want to earn a decent living and support their families, but end up being forced, coerced and deceived into working against their will in factories, in the sex trade and in the hidden world of domestic slavery.

Without action, the results of the modern slavery industry will continue to stare us in the face as we walk down British high streets.

It is possible that the clothes we wear, the electronics we use and the food we eat could be the product of child and forced labour, and this undermines legitimate businesses and economic development which are lifting thousands of people out of poverty.

It is absolutely imperative that we work both at home and abroad to make certain that we are breaking the business model of people perpetrating an evil abolished by Britain 200 years ago.
The UK is stepping up efforts at home and abroad to combat the crimes of human trafficking, forced labour, and abuse, with over 40 million people estimated to be modern day slaves.
As part of the Prime Minister's pledge at the United Nations General Assembly to double the UK's aid commitment to tackling modern slavery, Ms Mordaunt set out UK aid support which will have a life-changing impact for hundreds of thousands of people at risk of exploitation.
Today's £40 million package of UK aid includes:
£13 million for the second phase of the Work in Freedom programme to prevent trafficking and forced labour among women migrant workers from South Asia, which has the highest prevalence of forced labour globally.
a £20 million contribution to the Global Fund to End Modern Slavery, which will be used to target sectors with a high risk of slavery, like the garment sector, fisheries and construction, combating this crime by working with law enforcement, prevention and victim services and business.
further details of the £7 million DFID support in Nigeria which will focus on creating credible alternative livelihoods in hospitality, creative industries, technology and agri-entrepreneurship so people are not forced into a life of trafficking, providing better victim support and counselling, and increasing public awareness of the risks of trafficking.
Forty countries have now joined the Prime Minister's global Call To Action, where she urged world leaders to show they will not tolerate modern slavery, human trafficking and labour exploitation.