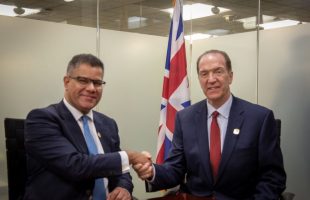 The Guardian and The Times have both reported today on International Development Secretary Alok Sharma's visit to the World Bank Annual Meetings in Washington D.C.
In its report, The Guardian says UK backing for a World Bank fund to help poor countries will hinge on it making keys reforms.
The paper, which runs the story on p29, quotes International Development Secretary Alok Sharma, saying the Bank must channel more money into tackling the climate crisis, improving gender equality and ensuring vulnerable countries can pay their debts.
Speaking in Washington, Mr Sharma said the size of the UK's contribution to the Bank's International Development Association (IDA), a concessional loan facility for the world's least-developed countries, would depend on this approach.
The paper explains how Britain is one of the few countries to meet the United Nations target for spending 0.7% of national income on development assistance, and the size of the aid budget meant it was the biggest single donor to IDA 18, a three-year $75bn (£58bn) round of funding which expires in 2020.
It reports that with the Bank keen to raise even more money for IDA 19, the Secretary of State made it clear, in a meeting with World Bank President David Malpass, that he intends to use the UK's leverage to secure change at the Bank.
Mr Sharma is quoted in the piece as saying: "The UK is leading the way to build sustainable economies. The World Bank must prioritise fighting climate change, investing in quality infrastructure, improving the rights of women and girls and giving a lifeline to people living in conflict zones."
Meanwhile, The Times report focuses on comments made by Sir Suma Chakrabarti, president of the European Bank for Reconstruction and Development.
He is quoted saying: "We should have more senior Britons in the World Bank system. Those are things the UK should be thinking about. It is the biggest IDA donor…One could ask post-Brexit, should Britain be doing more to use the multilateral system to project itself. Development is where we are strong."
Working in partnership with the World Bank is one of the ways UK aid is creating safer, greener, quicker ways for developing countries to attract investment and raise money to lift themselves out of poverty.
Earlier this year, Mr Sharma launched a new International Development Infrastructure Commission which aims to turbo-charge investment in sustainable infrastructure.
This Commission's aim is to help a wider effort to plug a $2.5 trillion funding gap that is needed every year to end poverty in developing countries. UK aid is also mobilising private sector investment to help achieve this.