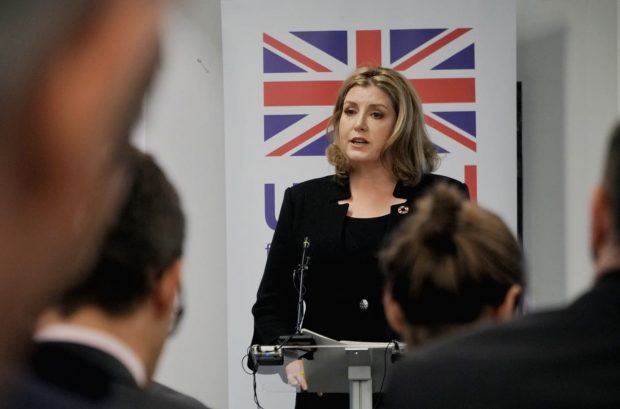 International Development Secretary Penny Mordaunt spoke today at the Department for International Development's Investment Arm, CDC, about how the private sector can support international development globally.
In a speech which set out the good that aid does the Secretary of State talked about the importance of the private sector in helping deliver the UN's Sustainable Development Goals which include the eradication of poverty.
The Secretary of State said:
"We remain committed to 0.7%.  but as we do so we should ensure the British public get a triple return on their generosity and compassion:
- a personal return to them;
- a stronger Britain;
- and a more prosperous and stable world."
Setting out how private sector investment can help deliver international development the Secretary of State highlighted steps already taken, she said we want:
"…to mobilise private investment to support development. This results in driving innovation, increased competition and sustainable growth, while meeting high social and environmental standards.
"And we are developing a new partnership, with the City of London Corporation in designing new financing mechanisms that will help mobilise more investment for poorer countries and support the creation of the 18 million new jobs a year which Africa needs.
"This is in our national interest, allowing the City to expand its role as a financing hub for the developing world."
She described how this investment must achieve development impact, she said:
"And to give ordinary people the power to hold companies to account, they will need accurate information on how their money is used and the impact that it delivers…
"And that is why I helped to launch the World Benchmarking Alliance at the United Nations General Assembly last month, which will rank companies on their contributions to the Global Goals…
"We are working with experts and investors to standardise how the social and environmental impact of investment is measured and flagged to the public."
She highlighted the current funding gap, which needs to be filled, if we are to deliver the Global Development Goals by 2030. The speech highlighted how we are off track by $2.5 trillion per year, and this is why private sector finance could make such a difference to delivering investment in the coming years.
The Secretary of State said:
"The City of London manages over £8 trillion worth of assets but little is invested in the poorer countries. Even a small increase would have a huge impact on these economies. For example, if we could redirect just 1% of those assets to investment opportunities in Africa, that would generate additional investment of around $110 billion. By contrast, global aid flows to Africa last year were worth just $50 billion."
The Secretary of State also called for a national conversation to establish how the British public could in future chose to invest in supporting sustainable development.
She said:
"We want to give British savers a chance to make a financial return in exchange for their goodwill to change the world for the better.
"I want people to have more information about how their savings are used and the opportunities available to them to invest in things that they care about.
"Why can't British people go to their Bank and invest their savings and pension in products that will invest in the Global Goals? Or open an app on their phone, and select which Goals they'd most like to invest in?"
The Secretary of State also set out her commitment to consider how the aid budget is spent as we leave the EU, as "in time we will have more flexibility to consider how we use our aid budget and the £1.5 billion we currently channel through the EU on an annual basis," she said.
Looking to the future the Secretary of State also committed to continue to discuss how Overseas Development Assistance (ODA) is calculated.
"Over the past two years we have worked with our partners also to shift the dial on international aid rules, allowing our aid budget to help the private sector invest in sustainable development more than ever before. And I will continue to work with our partners at the Organisation For Economic Cooperation and Development to make sure the aid rules incentivise private sector investment where it's needed: this is the only way we are going to collectively deliver the financing necessary to meet the Global Goals…"
"And in future years as the amount of funding coming back into our own development financial instruments increases we should be open to using these profits to count towards the 0.7% and I'm exploring the scope to reinvest those funds with the DAC to maximise the value of our investments."
Articles today (Tuesday 9 Oct) in The Sun and Express suggest that "billions of pounds of taxpayers' cash to be slashed" from the aid budget. This is not what the Secretary of State set out in her speech. She called instead on the private sector to boost investment in emerging markets to help delivery the Global Goals.
She said:
"Investing in developing countries in Africa and Asia helps to build the markets of the future and for UK businesses as we look to forge new trading partnerships. This is sustainable development.
"The more we do, the more we can trade, the more we can trade the less demand there will be for aid."