ITV News last night aired an insightful report on the Democratic Republic of Congo's (DRC) fight to contain the country's worst ever Ebola outbreak. The current outbreak in eastern DRC is the largest known in the country's history, and control of the outbreak is made much more difficult because it is occurring in a zone experiencing intense conflict, with many active insurgent groups.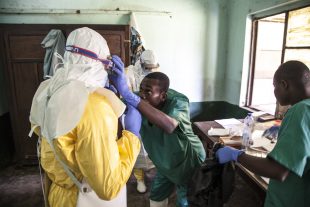 UK aid is on the ground playing a crucial role in responding to the outbreak. When the outbreak was first announced we reacted quickly to assist with the international response, led by the Government of DRC and the World Health Organisation (WHO), building on our experience supporting the 2014-2016 Ebola outbreak in West Africa.
We remain one of the largest donors and continue to provide support to our international partners such as the WHO. The UK is also supporting neighbouring countries like Uganda, Rwanda and South Sudan to ensure they are as prepared as possible to respond, should the outbreak extend into their territory.
An experimental vaccine, supported by UK aid, is being provided to those who have come into contact with infected people and frontline workers, including health workers. In the DRC alone, almost 49,000 people – over 15,000 of whom are health workers – have been vaccinated so far and early evidence suggests the vaccine is effective at helping contain the spread. This vaccine was developed with support from UK aid following the West Africa Ebola epidemic. Vaccination teams on the ground, supported by DFID through the WHO, are doing all they can to deliver this vaccine to everyone who is eligible for it.
And for the first time, the vaccine is also being given to frontline healthcare workers in Uganda as part of preparations – also supported by DFID – in the event of the disease spreading there.  The UK is also supporting training in preparation for clinical trials of several of the new potential therapeutic drugs for Ebola.
The risk to the UK population remains very low. Public Health England continues to monitor the situation closely and review the risk assessment on a weekly basis, checking to see if there is any significant change in the current trajectory of the outbreak.