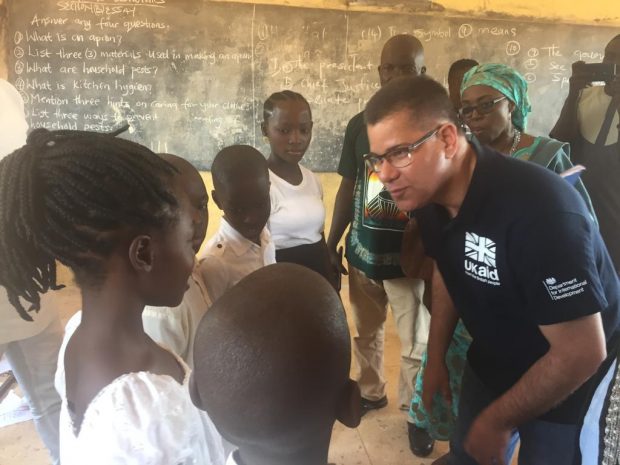 Last week, International Development Secretary Alok Sharma made his first international visit to Nigeria to see how UK aid is helping to generate billions of pounds worth of trade and investment opportunities for African and British businesses. The visit, which underlined the importance of the UK's relationship with Nigeria, has received widespread national and international coverage.
In an op-ed published in City AM to mark the visit, the International Development Secretary expressed the importance of British support to help Nigeria move beyond aid, underlining the opportunities presented to businesses to "invest in this incredibly young, dynamic, entrepreneurial country".
Mr Sharma stated that "barriers to private investment" are currently tempering "Nigeria's burgeoning potential" pointing to the UK's support to build the country's infrastructure to incentivise trade growth.
He said: "UK aid is already supporting the expansion of Nigerian infrastructure. The Viathan Independent Power Plant is a great example of where UK aid goes beyond money. As well as financial support, British engineers provided technical assistance and policy advice for the building of the plant."
The International Development Secretary also announced further investment through UK aid into Africa's electricity network over the coming years, creating sustainable, affordable and reliable power supply.
Mr Sharma pointed to the Africa Investment Summit due to take place in London next year as an opportunity for businesses and world leaders to come together to "turbo-charge" the appetite for trade.
Widespread coverage, including in the Hindustan Times, pointed to the new International Development Secretary's extensive experience prior to joining the department, highlighting that his previous role as the Prime Minister's Infrastructure Envoy would support his work to build trading partners of the future through UK aid.
Mr Sharma saw first-hand how UK aid is helping Nigeria boost its potential through quality education, on a visit to Mahuta Primary School in Kaduna.
A number of news outlets including allAfrica, the Reading Chronicle, and the Eastern Eye reported that through UK support, 360,000 Nigerian children were being educated in core subjects like English, maths and science, helping improve their prospects for employment and boost their future incomes.
A video showing key elements of the International Development Secretary's visit to Nigeria has been shared on DFID's social media channels.